Company History
Company Backgrounds: 10 Years of accumulated experience to manufacture the mesh plate and nebulizer circuit board.
1. 2013.06--Introduced by LongCheng Excellence Plan, settled in Changzhou National Medical Device International Innovation Park.
2. 2013.09--Registered capital RMB 10 Million.
3. 2013.12--Obtained the Production License.
4. 2014.03--Completion of the comparison test with OMRON NE-U22; has a signaficant advantage especially in the quality of aerosol particles size.
5. 2015.01--Obtained 3 models of mesh nebulizer CFDA Registration.
6. 2015--Got 1 Invention patent certificate, and successfully got PCT certificate(No.20160279352A1).
7. From 2013 to now, obtained 4 utility model patents and 2 design patents.
8. 2015.05--Selected to the application demonstration project of innovative medical device products, by Chinas Ministry of Science and technology and the Ministry of Health.
9. 2016.06--Obtained the CE certification, and expected to pass the FDA certification in November, 2016.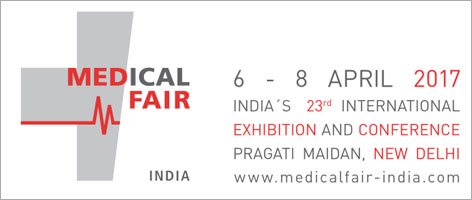 India's 23rd International Exhibition and Conference
Exhibition Time: 6-8 April,2017
Exhibition Address: International convention Center, Pragati Maidan, New Delhi
Booth No.: 12H20